I have to reblog this and add…
The World outside the USA are like me, we are hurting at what Israel do, we stand beside Palestine with no hate for Isreal, because it's people, Jews!! Don't like this.

Before I share Israel/Palestine, this is what Ross Kemp does.

One of the most confronting scenes Ross has ever faced.

While hiking in Papua New Guinea, armed guerrillas ambush Ross and his cameraman, threatening to shoot them with their guns.

Ross amazingly uses his bravado to dissipate the situation. ALL SHORT VIDEO'S APART FROM 'PALESTINE FULL' This is how the World outside BLIND American Christians who refuse to even want to understand both Jews and Arabs REFUSE to hate. "These Palestinian DOGS AND ANIMALS AND SUB-HUMAN BEINGS SHOULD BE IN FECKING JORDAN" is not the 2016 answer to a Thousand year old issue. American Christians don't know it, but they are the ONLY people on Earth who take this story to a place even Jews/Arabs, Israeli's and Palestinians, both in Gaza and the West Bank where Jews kill Jews because MANY Jews dislike what Israel do in Gaza. But read your book or KNOW A TRUTH that makes your book WRONG…..Faith is one thing friends….But blind ignorance is another things altogether. How SCARED must a person be to not want a book ruined by the truth? I am asking. NO HATE…I just can't get my disabled stupid mind around a question and issue I have lived myself in a different way. The IRA bombed the UK when we were kids, we were terrified…Thatcher, well I was a 'Thatcher Child', she oppressed Scotland more than American Media make the POTUS race look like a movie….

Free your minds from fear and allow your so called 'CHRISTIAN HEART' to not cast stones. By ignoring this, denying this, naming this as you mostly do (NOT YOU ALL) You are breaking 4 (AT LEAST) of the 10 commandments….Yet this does not bother Christian America? I am confused….But I already know the Childish manner in how Christians from America can deny a truth so hard, that is puzzles the other 95% of our World. 7 Billion people on Earth and about 150 Million American Christians keep the hate going by refusing to vote or change.  But MANY American dislike what Israel does. It's Genocide….But I guess Suicide Bombing is only wrong SOMETIMES…I guess Syrian Kids found in Oceans escaping what Palestinians can't is choice too yeah? Choosing what is not or is Evil is confusing to me….But I have a disabled mind…So it might be me.

Let's see who has debating skills other than "I don't want to talk about this [BECAUSE YOU ARE TOO THICK TO DO SO] or "They belong in Jordon because my Book told me this".

UTTER CONTEMTP BY SOME….UTTER EVIL, CLOSED MINDED EVIL…By Gods 'Chosen Ones'

Irony huh?

No hate…..Just question the World can answer, and half of America blindly, stupidly, lack of talking skills don't want to know about.

The bible CLEARLY states "When Babylon falls, so shall the World" But I would and could not believe this anyway. Babylon fell around 539 BC.

Babylon HAS FALLEN…And our World is still here. But both England and the USA did level, killing 10's of thousands in Babylon in the last 20 years…

See Babylon is now Iraq.

And Noah's Ark!

Was there a guy called Noah? Probably!!!

Did he see or feel a flood coming? Maybe!!

Did he build a boat? VERY LIKELY!!

Did he allow 2 of EVERY Animal into the boat to save them? NO!!!

How can I be sure? TRY IT!!!!

How did 2 Kangaroos get from Australia to Iran?

How did 2 Scottish Highland Ponies get to Iran?

How did 2 Canadian Moose get to Iran?

Can you see the pattern emerging?

Did you even read this far? L

There are about 8.7 Million animals on Earth, land, air and sea.

Today there are WAY LESS as our Species have killed off too many

THE EXTINCTION CRISIS <Click

Why do we still have Sharks that kill people?

Why is the Noah crap always shown as this?

The Tigers and Lions would eat EVERYTHING….lol

Some things are IMPOSSIBLE RIGHT?

I mean if I wrote a book today, and hid it, knowing in 1,000 years from now it would be found and I wrote "I Shaun, eat a whole Mountain in a week to save Humanity"

What fools would fall for that? IT'S AS IMPOSSIBLE AS NOAH'S CRAP STORY…..PS: Noah was in and from and lived in what is now called 'Iran'

OUR WORLD IS FUCKED….

Video's below if you REALLY want to open your minds.

Listen to Israeli fathers say "We kill Palestinian kids, what do we expect" or "Why does my Government always Genocide in Palestine? Because I know 100's of people who have been injured by rocks, and a few killed" or "Israeli's saying "THE HATE MUST END, STOP THIS SHIT"

But half of America thinks they ARE THE WORLD…Here is a reminder…There is another 6.9991 Billion of us who MOCK YOU…But don't hate you….

The only hate I can TRULY believe is the hate between Jews and Arabs who don't want RELIGIOUS AMERICAN HATRED RUINING THIER LIVES IN THE MIDDLE EAST 10,000 MILES AWAY WHERE AMERICANS ARE FAT AND DON'T GIVE A FUCK…

PS: Watch the 2nd video down before the USA/Israel pull it…delete it…As they will…they always do delete the TRUTH FROM INSIDE ISRAEL….Because it goes against Christian Americans beliefs. HOW SAD!!!

There…Said it..

Now let's see who ignores it..

Hates it…

Throws hate back…(Stones)

Or says a 1 line remark of bullshit

OR WORSE…IGNORES IT.

IT'S SUNDAY I WAS BORED OK!!! Ian started this….LOL

Before Israel/Palestine, this is what Ross Kemp does.
One of the most confronting scenes Ross has ever faced.
While hiking in Papua New Guinea, armed guerrillas ambush Ross and his cameraman, threatening to shoot them with their guns.
Ross amazingly uses his bravado to dissipate the situation.

Ross Takes on Armed Men | Ross Kemp Extreme World


Israel/Palestine

Ross Kemp Middle East In Palestine [FULL]


Ross Kemp Middle East In Israel [FULL]
I CAN'T UPLOAD THE VIDEO. BECAUSE IT TELLS A STORY THAT ISRAEL DISLIKE WHAT SOME ISRALI'S DO, WHAT THE IDF DO….OR YOU TELL ME?

Ross Kemp interviews children in Gaza


Israel's Fear | Ross Kemp Extreme World


Ross Kemp Speaks with the Children of Gaza


Ross Kemp in Gaza – Marketplaces


Israel's Border | Ross Kemp Extreme World


Gaza's Children | Ross Kemp Extreme World


Ross Kemp – Middle East: Gaza clip of suicide bomber


Brave Palestinian little girls


Give us a Chance – A child from Palestine

Ace News Services
#AceNewsReport – Aug.07: 8yo Palestinian girl bullied by IDF soldier tells RT Israelis 'don't want us to play on our land'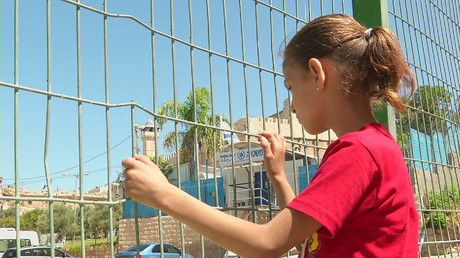 An eight-year-old Palestinian girl from the West Bank has told RT about her encounter with Israeli officers, in which they forcibly took her bike.
The girl's mother says it's not the first time her children have been attacked by Israelis in the area…..
Editors Notes:
I would remind you that this blog is produced free for the public good and you are welcome to republish or re-use this article or any other material freely anywhere without requesting further permission.
News & Views welcome always published as long as NO bad language or is not related to subject matter.
To keep online information secure, experts recommend keeping your social media accounts private, changing your passwords often, and never answering unsolicited emails or phone calls asking for your personal information. Need…
View original post 27 more words